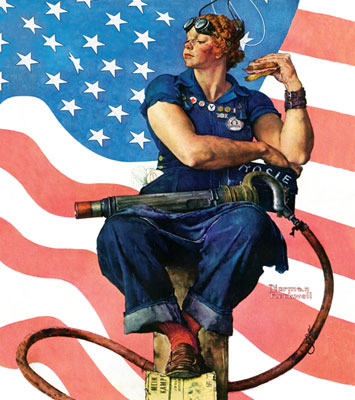 Who doesn't know the iconic scene of Rosie The Riveter?  Although many know the image, but not the story behind the image.  Sadly, the woman that posed for the Norman Rockwell portraits died this week at the age of 92 in Connecticut after battling a brief illness (According to the Associated Press).
Mary Doyle Keefe is the name behind the name.  She posed for the famous portrait that was immortalized on the cover of the May 1943 Saturday Evening Post cover.  "Rosie" became a source of inspiration and strength to many women who ventured out of the home to do the work men had left in order to join the war effort (WWII).  Rockwell painted the cover from photos taken of Keefe by a photographer and intentionally "bulked" the svelt Keefe up to fit the narrative, and it definitely worked.  Pictured holding a rivet gun, eating a ham sandwich, with Mein Kampf under her foot, Rosie wasn't taking shit from anyone, especially if they happened to speak German in 1943.  The Rosie character is an icon and is destined to remain a fixture in the history of our great nation.
In a recent interview, Mary Doyle Keefe recalled how she was asked to pose for the painting(photos), and how she earned $10 for the work.  Ironically, Norman Rockwell's painting sold in 2002 for $4.9 million.